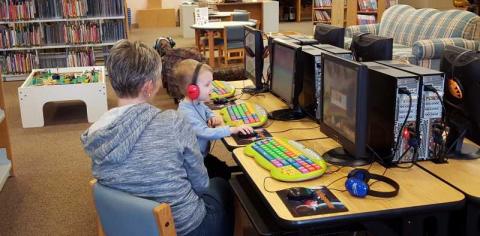 Besides books, movies, audio books, and magazines, the children's department also includes a listening center for audio books, and 6 computers with educational software especially designed for children. Or your child can relax by playing with puzzles, Lego blocks, our train set, or various toy sets which are available at the main desk.
Computers
There are six computers located in the children's department. These computers contain a variety of educational software but do not provide access to the Internet. Three computers have software designed for grades 2-6 and three computers have software designed for preschoolers and toddlers.
Internet access is available at the computers in the reference section of the library. Children must be 11 years of age or older in order to access the Internet without being accompanied by a parent. A library card is required to sign in to use the Internet.
Listening Center
Children can enjoy listening to audio books from our children's collection by visiting our listening center. Players are available along with jack boxes to allow multiple children to listen to the same story simultaneously.