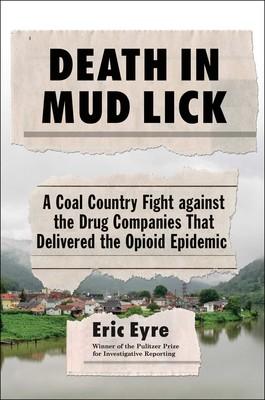 Gathering Volumes, Archbold Community Library, and Ohio Northern University Rudolph H. Raabe College of Pharmacy are excited to host a virtual visit with Eric Eyre, Pulitzer Prize-winning journalist and author of Death in Mud Lick, named a Best Book of the Year by The New York Times and nominated for a 2021 Edgar Allan Poe Award. Mr. Eyre will be speaking with the community virtually on the day of the paperback release of Death in Mud Lick, Tuesday, April 6, at 6:30 PM.
Denise Phillips, owner of Gathering Volumes says, "Although Death in Mud Lick takes place in West Virginia, the abuse of pain medications has reached epidemic proportions in Ohio as well. The number of opioid related overdose deaths, tracked by the Lucas County Coroner's Office alone, has increased from 8 in 2010 to 452 in 2019. Death in Mud Lick's portrayal of the public health crisis illuminates the repercussions of corporate greed that distributed millions of pain pills to a town of less than 500 people and its effect on the nation, including Northwest Ohio, today." Ms. Phillips says Mr. Eyre's story reminds her of when she first saw the film Erin Brockovich. "It is heartening to know that a sister to an overdose victim, along with a reporter from a small, local paper, and a single lawyer, all driven by outrage over the atrocity were able to bring truth to light and find justice. Who doesn't enjoy a story of citizens banding together to create positive change?" 
Mr. Eyre was a statehouse reporter for the Charleston Gazette-Mail in West Virginia until April of 2020. The paper's unofficial motto is "Sustained Outrage," which was perfectly fitting for Mr. Eyre's reporting on the opioid crisis. Eyre spent years investigating the dumping of pills in small towns while writing two hundred and fifty stories a year. In 2016 Mr. Eyre was diagnosed with Parkinson's disease, in 2017 he was awarded the Pulitzer prize for Investigative Reporting, and in 2020 Death in Mud Lick released sharing the details of the investigation with the world. On Tuesday, April 6 Death in Mud Lick releases in paperback and Mr. Eyre will spend the evening in Ohio, virtually.
All are welcome to attend the presentation. Copies of Death in Mud Lick are available in hardcover immediately at Gathering Volumes. The paperback can be ordered now from Gathering Volumes and will be available in store on the day of the event. The store also ships and delivers locally.
Once again, in celebration of the paperback release of Death in Mud Lick, Pulitzer-prize winning author Eric Eyre will be speaking virtually with Archbold Community Library, Gathering Volumes, and Rudolph H. Raabe College of Pharmacy at Ohio Northern University. There is no charge to participate but registration is necessary. For more information about Mr. Eyre's visit, call Gathering Volumes at (567)336-6188 or events@gatheringvolumes.com.